Aufgrund von Arbeiten an unserem Server ist der Computerraum vorrübergehend geschlossen!/ Due to work on our server, the computer room is temporarily closed!
Vielen Dank für euer Verständnis!/ Thank you for your understanding!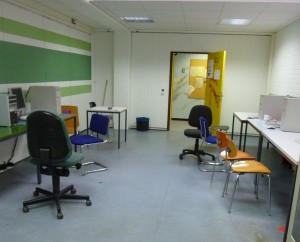 Hast du keine Lust in der Garderobenschlange der SuUB zu stehen nur um kurz mal deine eMails zu checken? Kein Problem. Auf der AStA-Etage steht dir ein Computerraum zur Verfügung, den du ohne langes Warten benutzen kannst. Die Geräte im Raum besitzen nicht nur Internet- sondern auch Druck- und Scanfunktionen.
Bei Fragen und Problemen stehen dir außerdem unsere Mitarbeiter aus der EDV-Abteilung gerne zur Seite.
Öffnungszeiten:
Montag bis Freitag 10-16 Uhr
In den Semesterferien kann der Computerraum wegen verkürzter Büroöffnungszeiten leider nur von 11-15 Uhr geöffnet sein
Raum: A2050
_____________________________________________________________________________


Do not you feel like standing in the SuUB wardrobe queue just to check your emails? No problem. On the AStA floor you have a computer room at your disposal, which you can use without waiting. The devices in the room not only have Internet but also print and scan functions.


If you have any questions or problems, our employees from the EDP-department will be pleased to assist you.

Opening hours:
Mondays till Fridays: 10:00-16:00

Unfortunately, the computer room can only be open from 11 am to 3 pm during the semester breaks because of our shorter office hours during that time.
Room: A2050