— English version below. —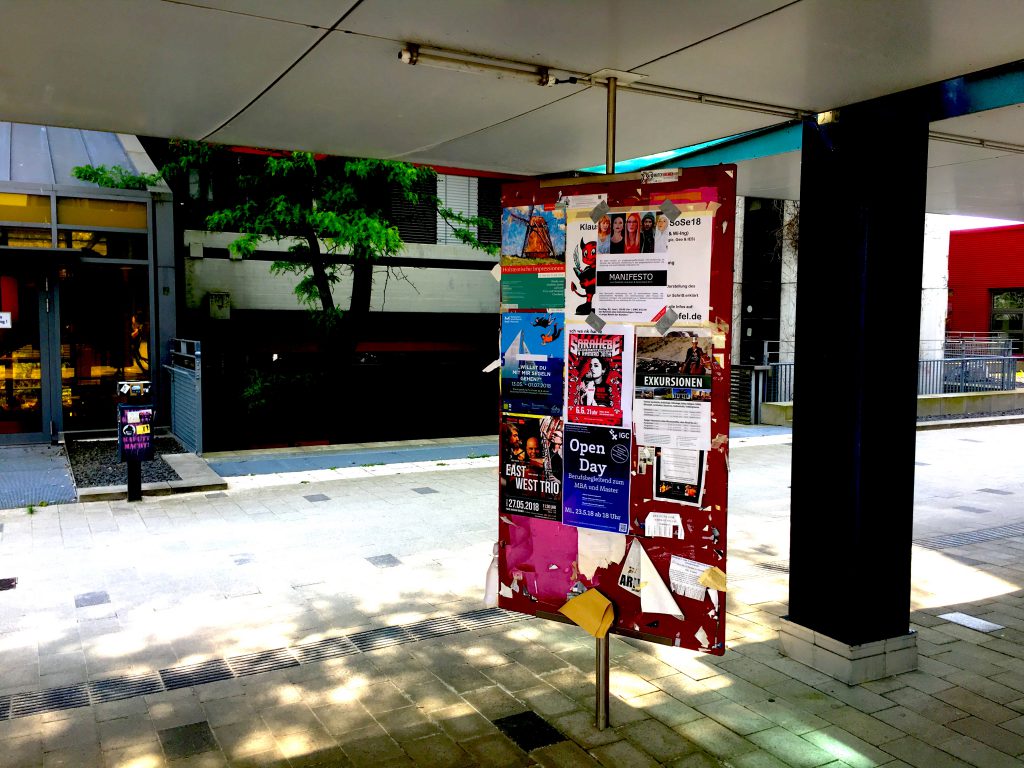 Hier geht´s zu den Infos über das Kultursemesterticket.
Hier geht´s zu aktuellen Veranstaltungen.
Mit dem Wintersemester 2019/2020 startet nicht nur das Kultursemesterticket, sondern auch die Arbeit des ersten AStA-Referats für Kunst & Kultur. Bei unseren ersten beiden Kooperationspartner*innen, dem Theater am Goetheplatz und der Bremer Shakespeare Company, bekommst Du für alle regulären Vorführungen ab drei Tagen vor Vorstellungsbeginn Dein Ticket kostenlos. Mit weiteren Kooperationspartner*innen sind wir im Gespräch, sodass wir sukzessive das Angebot an besonderen Vorteilen ausweiten. Dabei sind insbesondere kleinere Kollektive, Gruppen und Institutionen im Fokus, denn eine wertende Unterteilung in Hoch- bzw. Subkultur steht unserem Verständnis von Kultur als performative Lebenspraxis entgegen.
Unsere Ziele für die Legislatur 2019/2020 sind
Förderung und Erhalt der studentischen Freiräume (insbesondere Souterrain & GW3)
Einrichten einer jährlichen Förderung für universitätskritische Kunstinstallationen auf dem Campus
Schaffen neuer Plakatierungsflächen für nicht-kommerzielle Veranstaltungen
Ausweiten der Kooperationspartner*innen des Kultursemestickets und
Organisation themenbezogener Bildungsveranstaltungen (Filme, Vorträge, Workshops, Partys etc.).
Darüber hinaus ist das Referat für Kunst & Kultur jederzeit behilflich beim Stellen von Förderanträgen für emanzipatorische, grüne und diskriminierungssensible Kunst- und Kulturprojekte. Für nicht-kommerzielle Veranstaltungen unterstützen wir gerne bei der Öffentlichkeitsarbeit auf dem Campus (z.B. Druck, Verteilen & Hängen von Flyern & Plakaten, Reposts & Likes auf Social Media-Kanälen).
Kontakt:
kunstkultur [at] asta.uni-bremen.de
Sprechzeiten:
immer donnerstags ab 18 Uhr im HoPo-Büro auf der AStA-Etage
Department for Art & Culture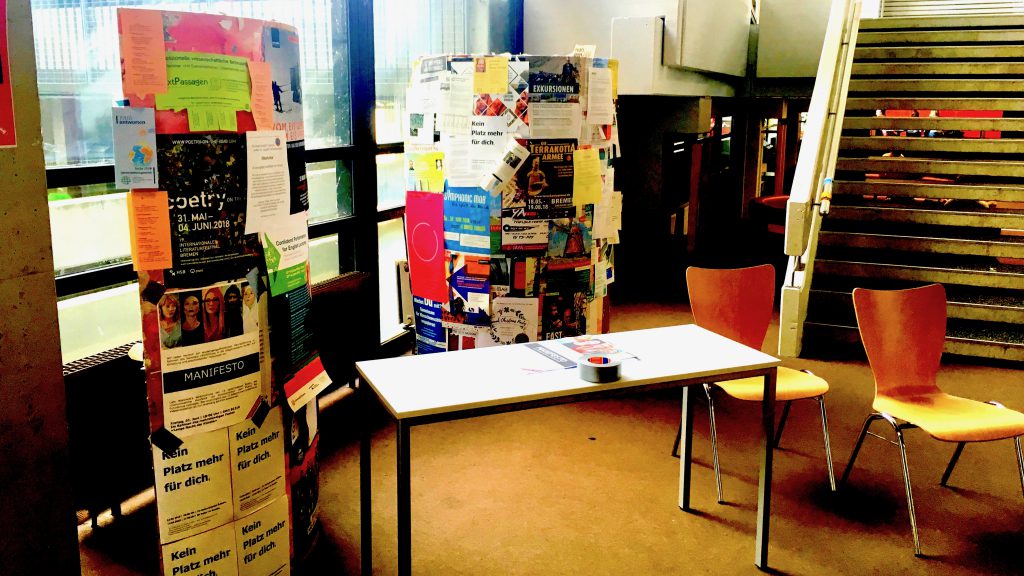 Click here for more information about the culture semester ticket.
Click here for current events.
With the winter semester 2019/2020 not only the culture semester ticket starts, but also the work of the first AStA department for art & culture. At our first cooperation partners, the Theater am Goetheplatz and the Bremer Shakespeare Company, you will receive your ticket free of charge for all regular performances from three days before the start of the performance. We are in discussions with various other cooperation partners so that we can gradually expand the range of special benefits for you. The focus here is on smaller collectives, groups and institutions in particular, because a judgmental subdivision into high- and subcultures stands in the way of our understanding of culture as a performative practice of life.
Our goals for legislature 2019/2020 are
funding and preservating of studential free spaces (especially Souterrain & GW3)
establishing an annual grant for university-critical art installations on campus
creating of new billboards for non-commercial events
expanding the cooperation partners inside the culture semester ticket and
organizing theme-related educational events (films, lectures, workshops, parties, etc.).
In addition, the department for art & culture is always available to assist in applying for funding for emancipatory, green and discrimination-sensitive art and cultural projects. For non-commercial events we gladly support public relations work on campus (e.g. printing, distributing & hanging flyers & posters, reposts & likes on social media channels).
Contact:
kunstkultur [at] asta.uni-bremen.de

Office hours:
every Thursday from 6 p.m. in the HoPo office on the AStA floor