Deutschkurse/German language courses/
cours d'allemand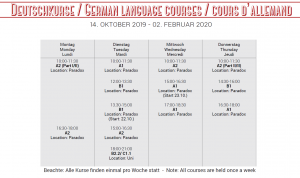 Du möchtest Deutsch lernen?
Oder Deutsch unterrichten?
Mit Unterstützung vieler Engagierter bietet der AStA kostenlose Deutschkurse auf verschiedenen Leistungsniveaus an. Die derzeitigen Kurse laufen vom 14. Oktober 2019 bis zum 02. Februar 2020 und finden einmal in der Woche statt. Die Kurse sind offen für alle, die Deutsch lernen wollen und werden ehrenamtlich gegeben. Da wir keine offizielle Einrichtung sind, können wir keine offiziellen Zertifikate ausstellen oder ECTS-Punkte vergeben. Bei weiteren Fragen schicke uns gerne eine E-Mail!
Anmeldung:
Bitte ordne dich zunächst einem Sprachniveau zu. Weitere Informationen dazu findest du in diesem Dokument. Bitte teile uns dann per Email mit an welchem Kurs du teilnehmen möchtest deutschkurse@asta.uni-bremen.de. In den nächsten Tagen erhältst du eine Bestätigung. Du kannst dich lediglich nur für einen Sprachkurs anmelden, andernfalls wird deine Anfrage für den weiteren Prozess nicht berücksichtigt!
Beachte: Aufgrund der sehr hohen Nachfrage und der begrenzten Anzahl an Plätzen (20) im Kurs wird geraten sich schnellstmöglich anzumelden!
Fragen?
Mail: deutschkurse@asta.uni-bremen.de
You want to learn German or be a German tutor?
The Allgemeiner Studierendenausschuss (AStA) organizes free German courses on different levels. The current courses run from 14th October 2019 until 02nd February 2020 and take place once a week. The courses are taught by volunteers. They are free and open to anyone interested in learning the German language. However, we cannot issue certificates or award credit points to people who have completed a course. If you have further questions, feel free to contact us per email.
How to register:
First, you have to find the language level fitting your skills. Have a look at this document for additional information. Just let us know which course you want to join by sending a mail to deutschkurse@asta.uni-bremen.de. You will receive a confirmation within the following days. Please make sure that you can only register for one course! Otherwise, we cannot consider your request for the further procedure! 
Attention: Due to the very high demand and the limited amount of places (20) in the course, we advise to register as soon as possible!
Questions?
Mail: deutschkurse@asta.uni-bremen.de