Das Kinderland ist eine Kinderbetreuungseinrichtung auf dem Uni-Campus. Die Kinder werden von studentischen Hilfskräften betreut, die vom AStA, der Uni und dem Studierendenwerk finanziert werden. Betreut werden Kinder in altersgemischten Gruppen, von 6 Monaten bis 6 Jahren. Die Kinder studierender Eltern können bis zu neun Stunden in der Woche betreut werden. Während des Semesters gibt es dann einen festen wöchentlichen Plan. In Ausnahmefällen, wie Blockseminaren am Wochenende, kann auch eine Wochenendbetreuung vereinbart werden, das hängt jedoch von der Kapazität der Betreuerinnen und Betreuer ab. In den Semesterferien findet auch Betreuung statt. Das Kinderland bietet Spielzeuge und Spielgeräte für Kinder aller Altersstufen, einen Außenbereich und eine kleine Küche.
Ort:
Sportturm, Ebene 1
Kontakt:
kinderland-campus@asta.uni-bremen.de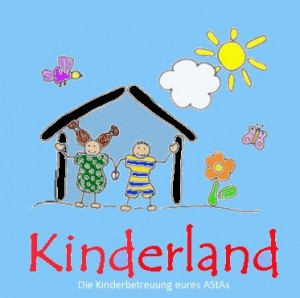 ______________________________________________________________________________


Kinderland is a child care facility for children of students enrolled at Bremen University. It is supported by the AStA, the University, and the Studierendenwerk. With a maximum of 9 hours per week, children from six months up to six years are cared for by student assistants. During lecture time there is a fixed weekly plan, the lecture-free period hours are discussed individually. In the case of block courses on the weekend, additional hours might be arranged. Kinderland has a variety of toys for all ages, an outdoor playground, and a small kitchen.
Where?
Sportturm, ground floor
Contact:
kinderland-campus@asta.uni-bremen.de